ERA IMS is based on the ERA management standards that take into account ISO 9001 requirements and the Internal Control Framework of the European Commission. It is designed to ensure that the requirements either prescribed by the EU regulatory framework as well as those set forth by specific agreements (e.g. cooperation agreements between ERA and national safety authorities) are met, have added value and are carried out in a responsible and sustainable manner.
ERA IMS is built on the following pillars:
ERA IMS is a single system used to manage the totality of the Agency's processes in order to achieve our objectives and to satisfy our stakeholders' needs and expectations.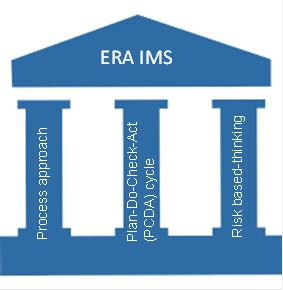 ERA has developed a process map that provides an overview of all the strategic, core and support processes designed to create value for our stakeholders.